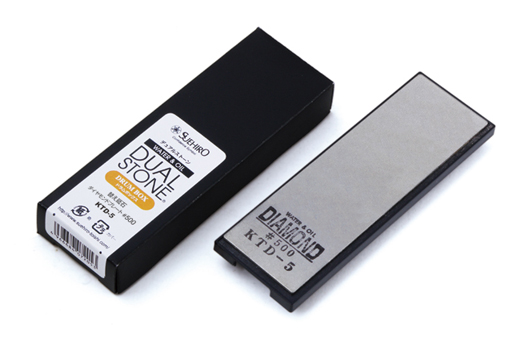 Replacement whetstone: #500 diamond plate (for cutting edge adjustment only).
Used mainly for adjusting chipped and damaged cutting edges.
KTD-5 #500 diamond plate for Drum Box (for cutting edge adjustment only)
Product No. KTD-5
Diamond grit #500
Whetstone size Appr. 130×40×1.5mm
Package Size 138×45×20mm
Appr. 80g
Value Price \ 1,500 yen (excl. VAT)
JAN Code 4966684072022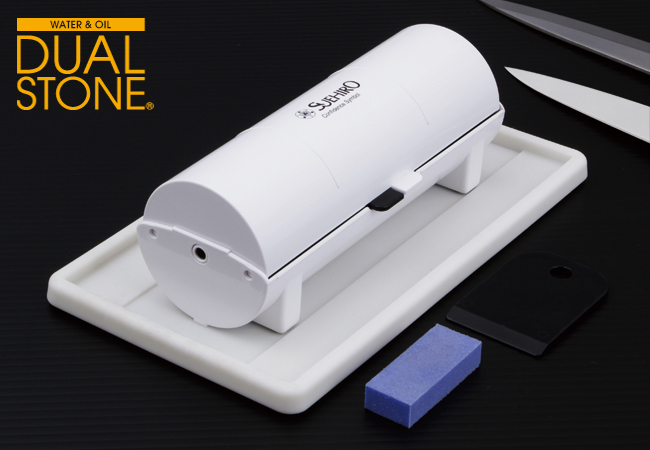 The DUAL STONE Drum Box is an easy to carry, conveniently portable rotating double-sided whetstone. You can quickly use two different whetstones just by rotating it. We produce interchangeable plates which you can change based on the application.
Microscopic voids in the surface of the DUAL STONE have been greatly reduced by the firing process. It has the hardness of an oil stone, and the sharpening performance of a water stone. It allows for superb sharpening without risk of debris accumulating in the surface pores. Depending on how the stone is used, this allows for finishing performance greater than its listed grit.
You can begin sharpening after applying a few drops of water or oil to the stone's surface.
The #1000 diamond plate is for finishing ceramic knives. The #500 is for adjusting chipped cutting edges.