About Our Products
Suehiro's Whetstones
Natural whetstones have a unique sharpening quality. For example, a Japanese sword sharpened with a natural finishing whetstone has an indescribable glow and beautiful pattern on its surface. This kind of polishing quality is the distinctive character of natural whetstones. However, there are drawbacks of natural whetstones. For example, they sometimes contain some impurities, which leave scratches on knives. Also, they are likely to break naturally and have a different consistency. Furthermore, they are quite expensive. These are the reasons why people do not try to use natural whetstones.
So, we made further investigation to produce whetstones with reasonable price, user-friendliness, and stable quality. Finally, we succeeded in producing the synthetic whetstones now we have. Synthetic whetstones are often thought to be inferior to natural ones in its value, however, in terms of coarse and medium sharpening, synthetic whetstones are actually superior to natural whetstones. We manage the whole manufacturing process of whetstones from R&D to production aiming to maximize the quality of sharpening, which rival or surpass natural stones.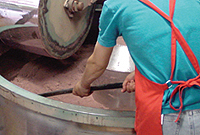 ❶ Mixing and stirring ingredients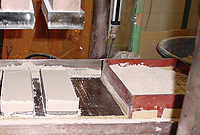 ❷ Press molding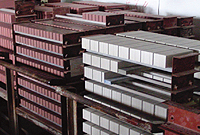 ❸ Drying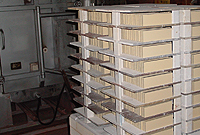 ❹ Firing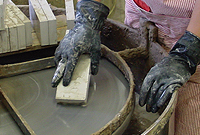 ❺ Final molding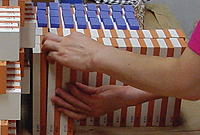 ❻ Quality checking and shipping
Gokumyō ®
The Supreme Finishing Quality
High-quality whetstones made with fine-grain abrasive fired at high temperature. No deterioration or cracks. Smooth, perfect finish. You can sharpen a knife effectively without slip. This series is superior to other existing synthetic whetstones. Please enjoy the high quality sharpening with this exquisite whetstone.
DUAL STONE
Toughness of Oil Whetstones, Polishing Quality of Water whetstones
DUALSTONE is a whetstone with improved consistency by firing has the toughness of oil whetstones and the polishing quality of water whetstones. You can use this whetstone only with a few drops of either water or oil. If neither of them is available, even a few spits can be an alternative. Groundbreaking whetstone series!
Professional use
Reliable Quality for Various Kinds of Blades
Products lineup including professional use whetstones, CERAX, Maido, DEBADO, all with smooth sharpening. This series has a wide range of products to meet the demand of sharpening various knives from cooking to construction to craft. The products also are suitable for household use. They can revive the sharpness of your knives.
Household Use
Suitable for Household Use
Easy-to-use professional quality whetstones designed for household use with the reasonable prices. The whetstones of this series is perfect for your first sharpening experience especially for stainless- steel knives. There are other kinds of products including sharpeners and cleaners to handle requests of different types of users.
Sherpener
Whetstone Manufacturer's Quality
This series represents "the manufacturer's quality knife sharpeners" with fool-proof whetstone rollers, usability-wise function, and a variety of choices on your demand. Easy-to-change parts, and sustainable design. These sharpeners can be used as the handy supplement to whetstones.
D.I.Y. and Hobbies
From Your Desk to Outdoor
When it comes to knives for hobbies, it varies from outdoor sports to craft to art production. We have a broad range of products such as portable whetstones for fishing and hunting, special whetstones for carving knives and gouges, and the products for DIY and hobbies including sandpapers and polishing agent.
Gardening
A Must-have in Your Toolbox
This series is for maintenance of gardening tools including mattocks, sickles, pruning shears, and cropping tools for fields, gardens, and forestation. Handy, portable size suitable for outdoor use. Whetstones specifically for curved blades such as sickles are available in this series.