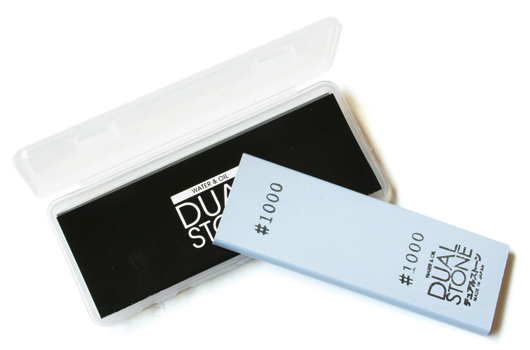 These whetstones have both the hardness of oil stones, and the sharpening power of water stones.
They may be used with both water and oil.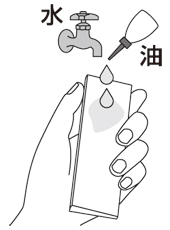 Our Dual Stone whetstones are a revolutionary design, eliminating microscopic voids in the surface through a special firing process, and combining the hardness of oil stones with the sharpening performance of water stones. Sharpening may be performed with just a small amount of water or oil applied to the stones' surfaces, or, if neither water nor oil are available, the stones may even be used with human saliva. They are suitable for sharpening small blades and scissors, and can be carried in your pocket. It is also possible to sharpen tools such as knives and fishhooks with a small amount of water when you are outdoors. As they are wedge type whetstones, they can also be used to sharpen serrated edges using the edge faces. They are easy to use, as it is not necessary to immerse them in water or oil for long amounts of time before use as with conventional whetstones. A few drops of water or oil (polishing oil, honing oil, edible oil, etc.), or even saliva, is all you need for sharpening. When sharpening, hold the cutting edge steady and move the stone over it.
Sharpen scissors

Sharpen serrated blades

Sharpen fishing hooks
 DS1000K
Product No. DS1000K
Whetstone grit #1000
Whetstone Size 115x38x9(3)mm
Package Size Appr. 170x75x18mm(Package) 130x55x12mm(PP case)
Appr. 90〜110g(Included case)
Value Price \ 3,500 yen (excl. VAT)
JAN Code 4966684070035