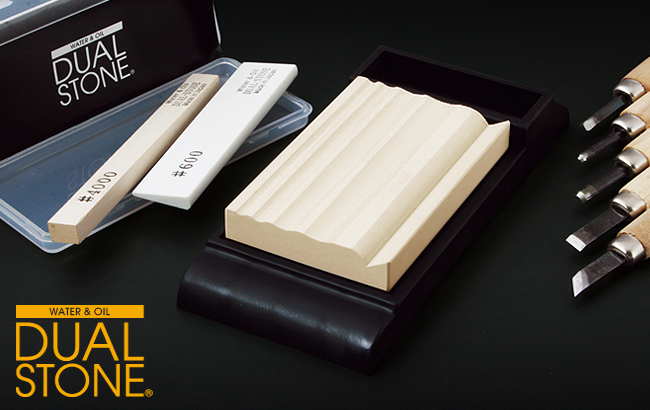 Sharpen quickly with just a small amount of water or oil.
Although you can sharpen a straight chisel with a normal whetstone, it requires practice to sharpen round or triangular chisels. As this product is a grooved chisel sharpening stone, such chisels can be easily sharpened by anyone simply by rubbing them back and forth over the grooves. Additionally, the reverse face may be used as a standard sharpening stone.
In the DUAL STONE manufacturing process, voids in the surface are extremely fine, allowing the stones to be used with either water or oil. When sharpening with water, whet the surface of the stone with your hand, or place water in the rubber base and dip the tool to be sharpened in the water before sharpening. It is then not necessary to add water to the stone. These are high quality chisel whetstones which do not degrade in quality under normal use. As it is convenient to be prepared to sharpen your tools, it is useful to place the stone on the side of your desk so you can sharpen your tools while you are working.
Sharpen flat knives

Sharpen engraving knives

Sharpen triangular chisels

Sharpen rounded chisels (large)

Sharpen rounded chisels (small)

Burr remover


The chisel whetstone has grooves of various sizes, so it is easy to sharpen tools by keeping them at the correct angle and sliding them gently back and forth in the appropriately sized groove. It is also possible to sharpen triangular and round chisels in the convex parts of the whetstone. The two included stick sharpeners are for sharpening round chisels, flat knives, and engraving knives, and can also be used to restore the surfaces of the chisel sharpening whetstone.
* The red line in the above image indicates the parts which can be used for sharpening/deburring.
How to use a chisel whetstone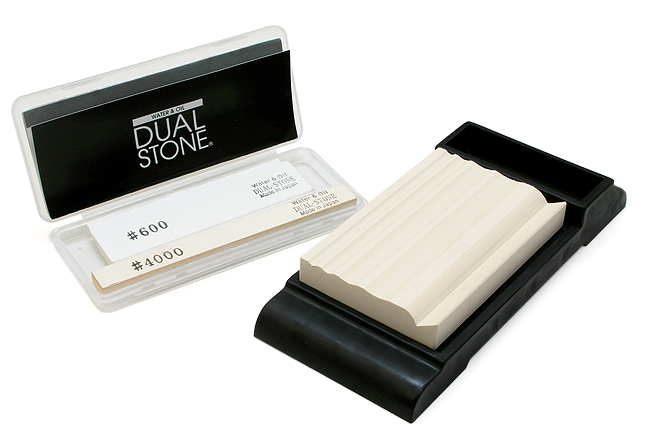 DUAL STONE Chisel Whetstone GDS-66W
Product No. GDS-66W
Whetstone grit #6000
Whetstone Size 98×64×15mm
Burr remover DS-1A[Wedge#600 / Stick#4000]
Value Price \ 9,000 yen (excl. VAT)
JAN Code 4966684068964