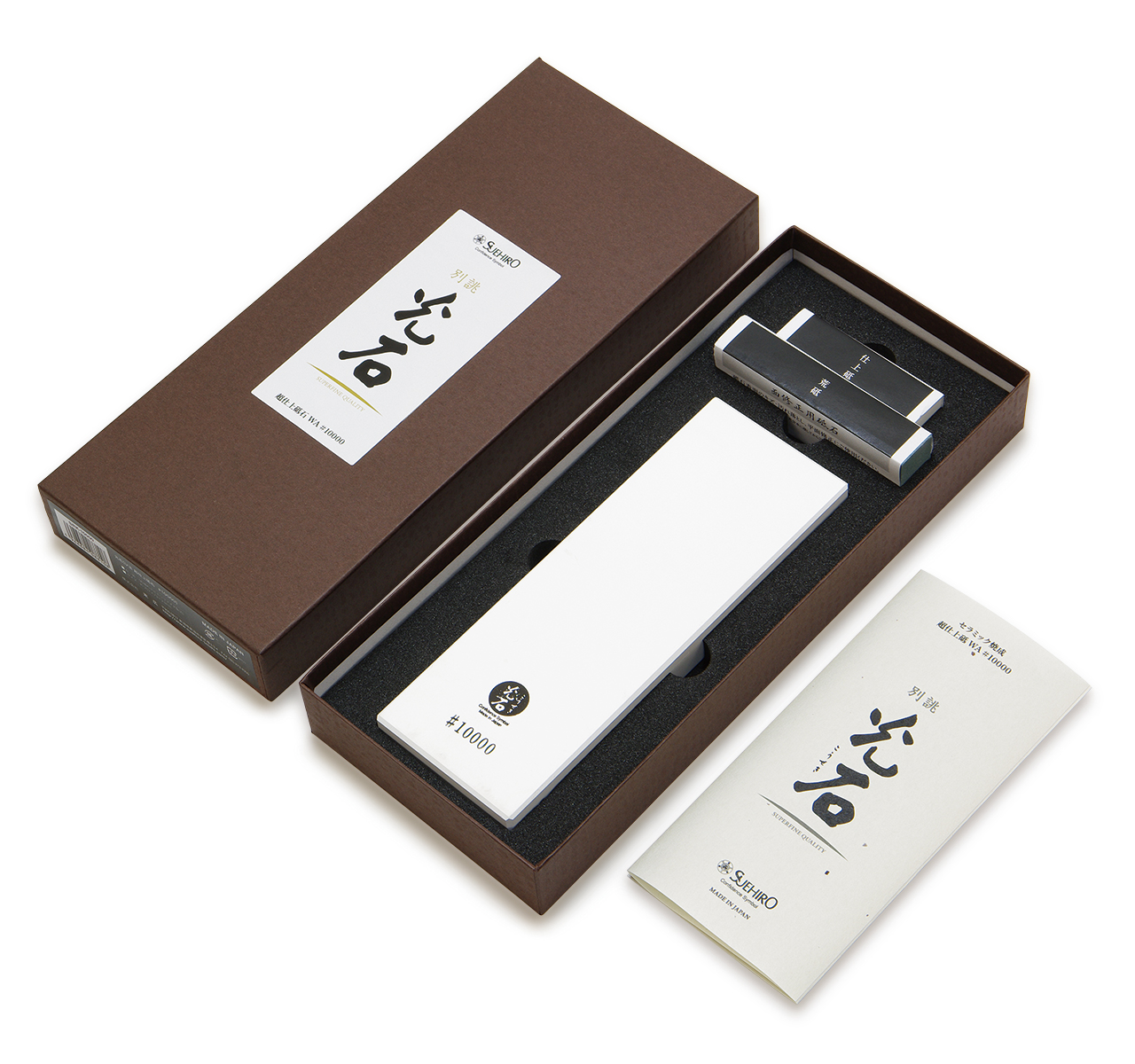 2018 NEW
Ready for polishing just by adding water

High grinding power and extremely smooth sharpening

High-quality Calcinated Whetstone

"Kouseki" – a super finishing whetstone made in the magnesium oxide manufacturing method, used for polishing blades for hairdressing in place of natural whetstones.
We reproduced the hard, tightened, and smooth sharpening and grinding power by our original firing method.
It is a high-quality whetstone with no worry of deterioration or cracking.

As one of Suehiro's trademark brands, "Kouseki" is a super finishing whetstone that replaces the high-quality natural whetstones, which have long had issues of quick depletion. It is made by the magnesium oxide method, a natural cementing method from the 70s that combines ultrafine abrasive particles and magnesium oxide (MGo), and has received praise for being effective in sharpening stainless steel and cobalt cemented carbide barber scissors, razors, and the like.
Whetstones manufactured by the magnesium oxide method need only a bit of water to start sharpening with high grinding power. On the other hand, in light of aspects such as deterioration due to continued immersion in water or cracking due to temperature changes and drying, we received requests from our users to overcome these shortcomings without changing the excellent feel in sharpening. So after many long years of research and development, we have succeeded in making this product "New Kouseki (Improved based on customer feedback)" that overcomes these flaws with its no. 10000 (over 1 micrometer) ultrafine particle material and its original vitrified manufacturing method (firing method).
Its sharpening feel and grinding power far surpass the original.
Enjoy "New Kouseki (Improved based on customer feedback)", which was made without any compromise to its quality.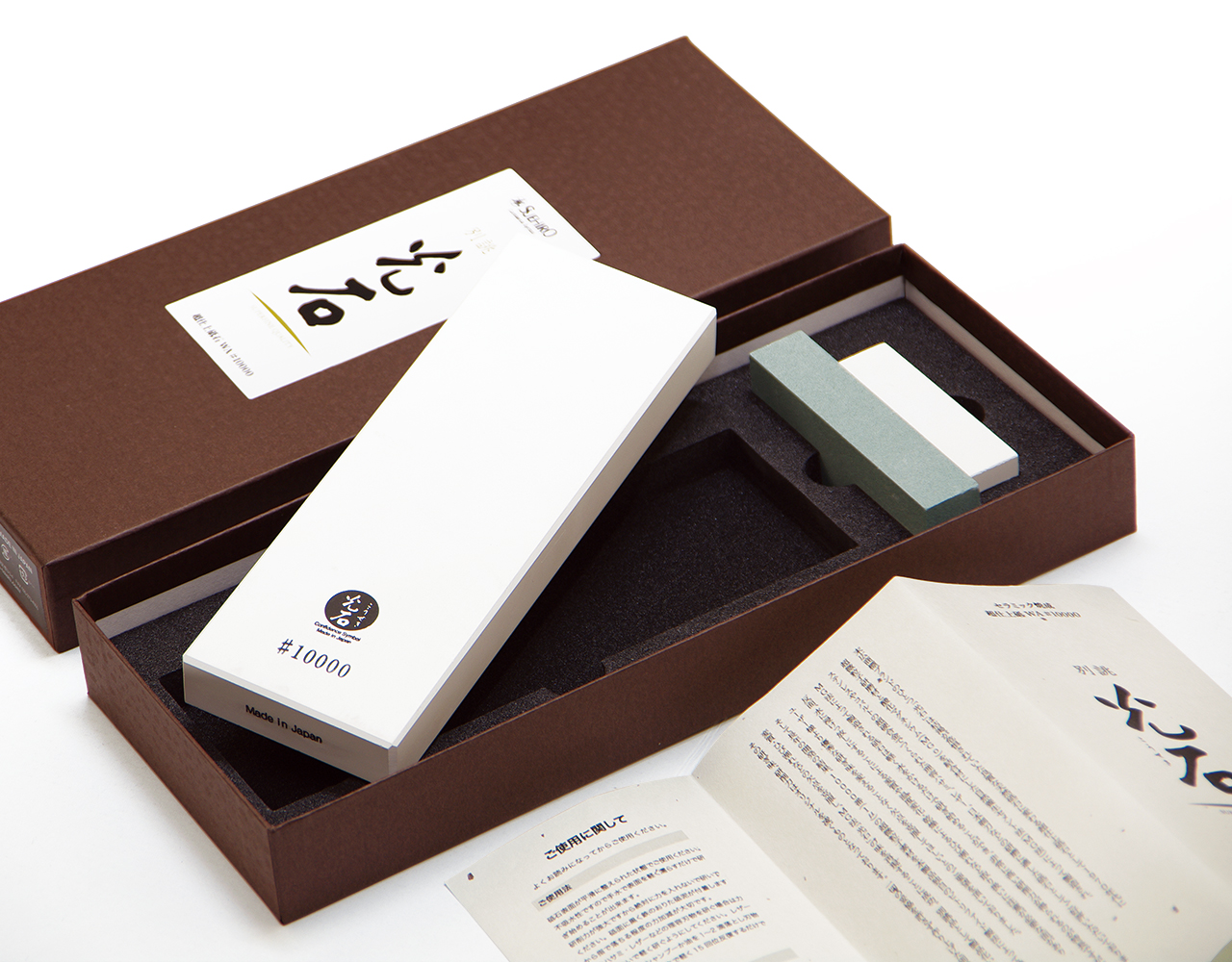 Contents
Kouseki Whetstone (whetstone rack not included)
Whetstone-Polishing Coarse Whetstone (Green)
Whetstone-Polishing Finishing Whetstone (White)
New Kouseki (Improved based on customer feedback) SRK-10000
Product No. SRK-10000
Super Fine Finishing Whetstone grit #10000
Whetstone Size 207×73×23mm
Package Size 310×132×40mm
Appr. 1000〜1100g
Whetstone-polishing whetstones (coarse[GC#220], finishing[WA#1000]) included
Value Price \ 18,000yen (excl. VAT)
JAN Code 4966684088108
*Please note that the whetstone size may differ slightly from the dimensions listed due to the characteristics of the manufacturing method and post-processing.
焼成砥石
This product is a whetstone calcinated by an original manufacturing method, and differs in method from the 2016 limited-release magnesium oxide method Kouseki.
Likewise, it is different in method and properties from the Gokumyo series.
Old magnesium oxide method Kouseki

(product discontinued)
Super Finishing Whetstone "Kouseki" for Hairdressing Blades (video from the 1970s)
This is a video explaining the use of and how to handle Kouseki for sharpening barber scissors, razors and Japanese razors.
Knife Strop KSW-485, KSW-310 (sold separately)
Although Kouseki is already sufficient for finishing, the Knife Strop (KSW-485, KSW-310) can be used after sharpening with Kouseki to do minute deburring. In particular, if the two are used in combination on a blade made of sticky steel material, you will be able to have a pleasant finish that cannot be achieved with just a whetstone. Try it for yourself.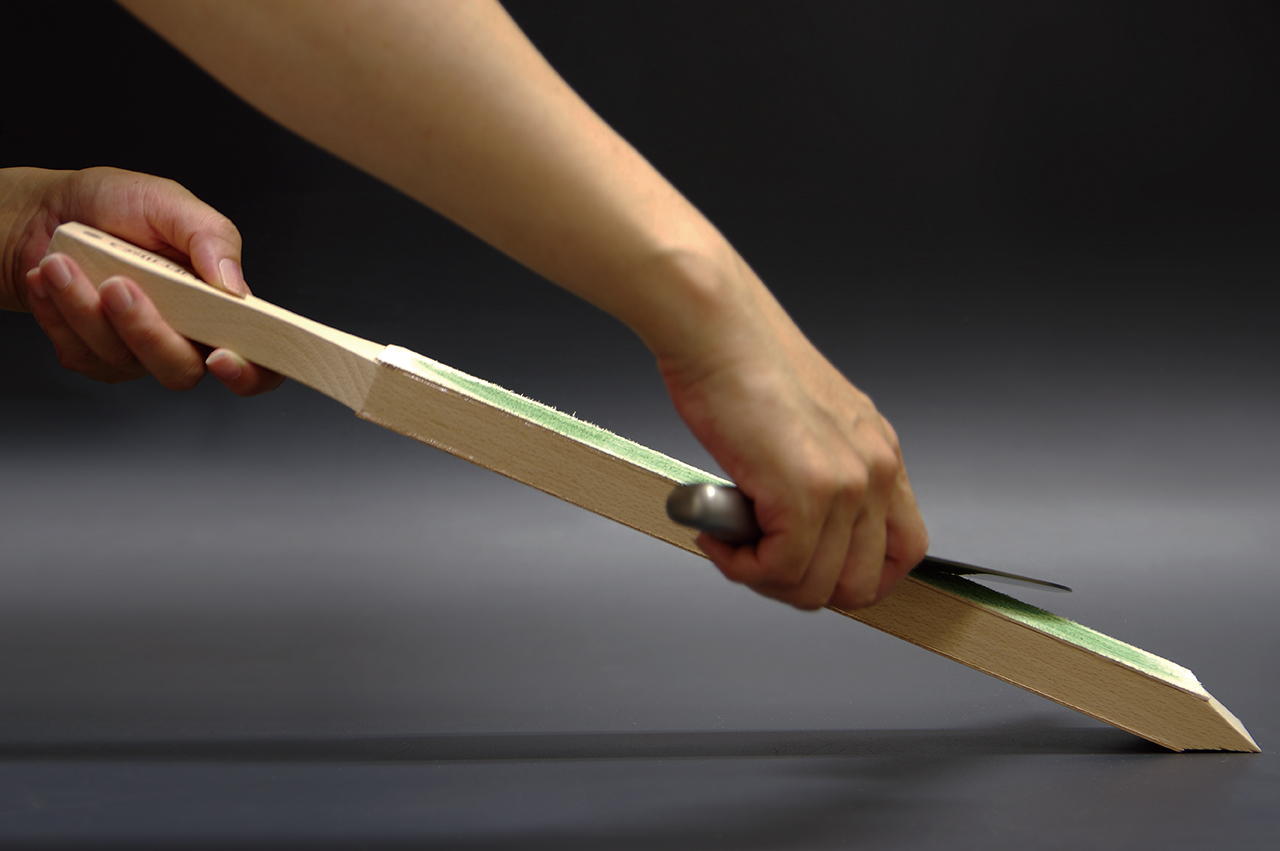 Click here for more about our knife strop KSW-485